**giveaway is close and do check back for the winner details on 27th**
Hi Everyone!! Thanks so much for all the warm birthday wishes today!!! I am truly touched and honored (althought I can't believe that I'm another year older - if anyone asks, I'm forever 25...lol).
Today, I thought I would share this mini album I made for the Lily Bee blog post - focusing on the new and gorgeous Picket Fence collection (and stay tune for the giveaway details too). The colors in this collections are gorgeously soft with a vintage flair - so in love (and yes, there's purple)! In making this I opted to not ink all the chipboard pages (only the first with distress ink) and instead incoorporated the raw chipboard into the design by spraying a bit of mist here and there (and of course, its the Studio Calico - Calico White).
Also making use of my big shot (sizzix) for the die cut flower - layering the multiple pattern papers and also a bit of distress ink on the sides to highlight the edges...
The theme I had in mind when I created this... was to create a little something to remind myself to... Be True, Be Yourself.
cardstock: american crafts; pattern paper: lily bee design; chipboard album: maya road; mist: studio calico; wooden alphas: making memories; chipboard shapes: lily bee design; heart pins: maya road; sticker alphas: october afternoon; flower die cut: sizzix
And now... I thought I would celebrate my birthday with everyone... with some small giveaways. First, I have this gorgeous collection set from My Mind's Eye (Lush 2 - Fuchsia) for one lucky person and yes - this is the entire collection set for this range; which includes 5 sheets of pattern papers, mini album and all the fun embellishments shown.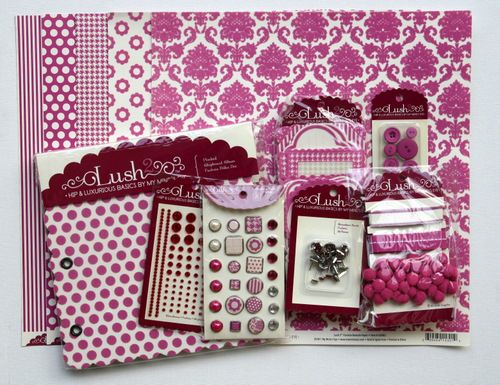 In addition, to the collection above I also have some additional items for 3 other lucky scrappers... and its for all the yummy goodies here... (please note that all the items shown will be divided among 3 people - as many of the items are duplicates).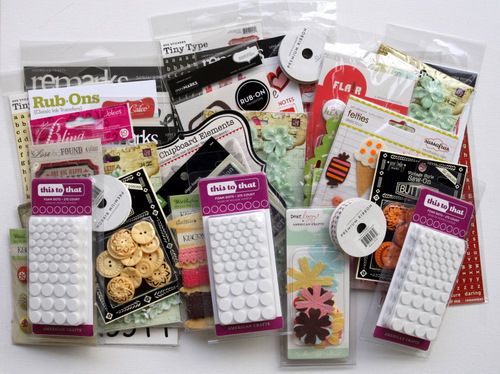 If anyone anywhere is interested in the yummy goodies - please leave me a comment on this blog post by
midnight Saturday March 26th
and I'll draw the lucky winners on Sunday March 27th (a total of 4 names will be drawn).
Thanks so much again for stopping by and hoped that everyone had a wonderful weekend! (FYI - as much as I wish I was 25 forever, unforunately its the double 3s for me this time.)