A HAPPY NEW YEAR 2011 everyone!!!
I still can't believe that another year has gone by... and honestly I still thought that I had some more time before the year came to an end. The other day I was having lunch with some scrappy friends and was mentioning how next week for new years, hubby and I were planning to grab some dinner and watch the fireworks. The catch was... that lunch was this past Thursday and new years was on Friday... oops. Needless to say, I kinda lost track to time.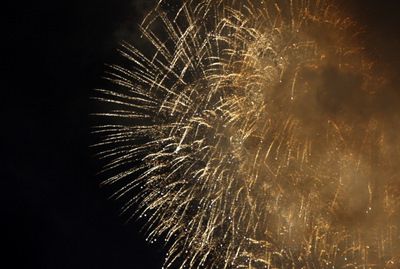 fireworks at marina bay (not the greatest picture, but still working on my photo taking skills)
And looking back this past year...
visited 7 cities/countries (australia, bali, barcelona, belgium, hanoi, london and malacca); not counting Bangkok

took a 3 month break from work

had a chance to work with another client/project for a short period of time

taught my first scrapbooking class (both locally and internationally)

had the opportunity to guest design / featured with 10 sponsors

amazing opportunity to work with 3 new design teams (lily bee, creating keepsake and pink paislee) - beyond my dreams

and bought 8 new bags (something that I really need to cut down for the next year)
And for the coming year, well not really sure just yet... but looking forward to
enjoying my work (somehow)

reaching a happy weight

visiting another 7 countries

visiting sis in chicago (and attending CHA W 2011 in LA along the way)

and...
And while I continue to work out my resolutions for the new year, I thought it would be great to start off the year with a giveaway!! The piles of goodies shown below will be split evenly between TWO lucky scrappers!! If you are interested, please do leave a comment on this post by midnight Friday Jan 7th and would love to hear how you're new year celebration was.
Wishing everyone again - a happpy new year and may all your wishes and dreams come true!! Also a big thanks for all your support and encouragement always!