sharing some
american craft
love... and it's
heat wave
! I remember when I first got this collection, I wasn't sure what pictures I would use and also the colors are so bright and strong. But once I saw these pictures from my trip - perfect - and had so much fun working with this collection. Love Love Love the bright and fun colors - I have already started working on a second layout with these papers!
and isn't that cutest little crab you ever saw?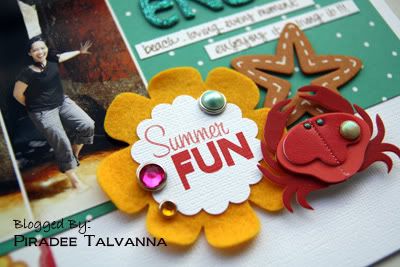 and yes, more twine. I've gone twine crazy and even with all that I have - I'm still ordering more and speaking of scrapbook goodies... do check back as I will be selling off some goodies at a fraction of the price (spent the last few days - cleaning and clearing my scrapping area). I can't believe how much I have accumulated over the year - new untouched and unopened paper packs, duplicate stamps and it goes on forever....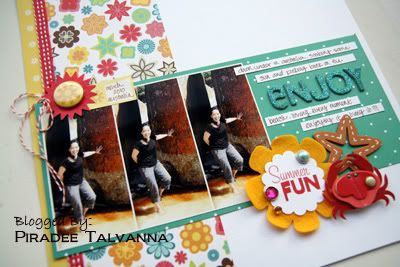 supplies used include:
cardstock, pattern paper, brads, ribbon, chipboard alphas, felt embellishments, rub-ons, sticker: american crafts; chipboard, mist: maya road
inspired by: sketch from yourscrapbook stash
and
THANK YOU
everyone for all the warm wishes - can't believe I'm another year old, although if anyone asks - I'm forever 25!!! lol and to celebrate with everyone, I thought I would have a small give-away...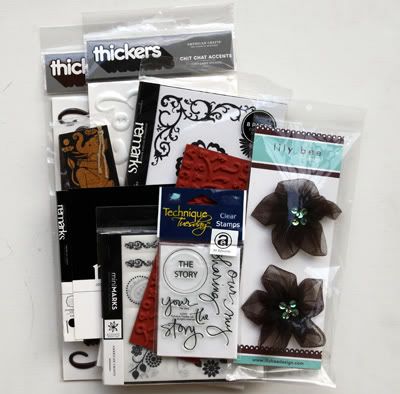 interested in some yummy american crafts goodies (the journal book has one sticker missing, otherwise everything else is new), lily bee - flowers (new), purple onion design - alphabet stamp set (new and un-mounted) and techique tuesday - stamp set (new). if you are, just leave me a comment on this post by
Sunday March 28th
.
ps. would love for you to become my follower (if you're not already). Txs!
and also a big thanks
Amy
and
Cosmo Cricket
for featuring my layout - was truly surprised and honored when I saw it. Thanks so much!!!
thanks again for stopping by and nite nite...