hi guys, we're kicking off this week with a fun giveaway from
Creating Keepsake Magazine
!!! it's for their latest tips & tricks edition. you're gonna love this one as it's filled with fun filled projects that are perfect for summer...
and to check out the sneaks -->
click HERE!!!
and even more -->
HERE!!!
and also sharing my layout that was published in the magazine... capturing last summer fun at the theme park - we really had a blast with hubby's nephew and me having a chance to be a little kid again, whinning to go on all the rides....lol...
I used the fine and dandy collection from my mind's eye for this layout - focusing on the graphic pattern papers as background as to draw the attention to the pictures first and adding bits of fun by poping up some of the pattern paper designs. I also used some twine to outline a few of the pattern papers and on some of the pictures, I only glued down three sides - so that I would still be able to tuck tags, notes, etc behind the pictures... (but if you have tons of fun momentos then check out Wendy Sun Anderson's super fun layout below mine - how fun is that!).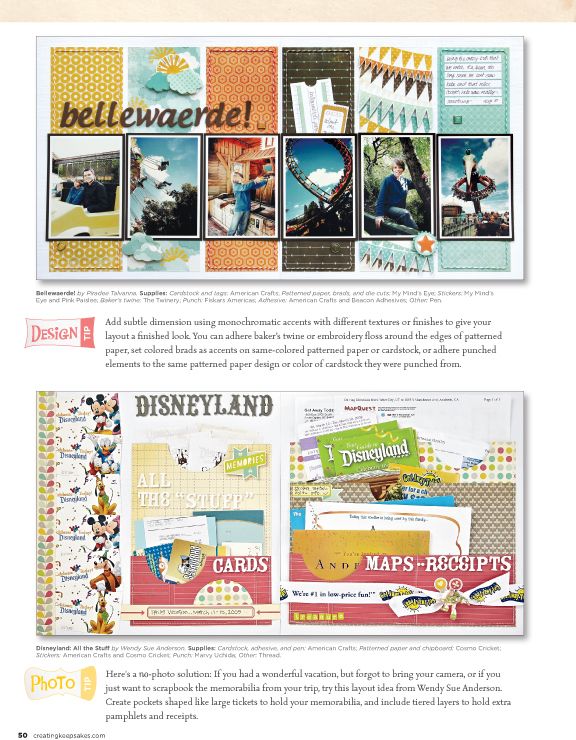 if you are interesting in purchasing the magazine right away -->
click here
. And the wonderful ladies at CK are also providing free shipping (within the US) for orders of $25USD or more --> enter this coupon code "
CKFUN10
" during check out (coupon is valid until Aug 8th).
and the wonderful folks at CK has also provided me a copy of this magazine to giveaway, so please leave a comment on this blog post by
midnight Friday 29th
and I'll draw the lucky winner on Saturday. thanks guys for stopping by!!!