it always amazes me how fast time flies by, in a blink of an eye and it's already october; and only a few more months till the end of year. it's been...
over a year since i've been married
over a year since i've been assigned to a project in singapore
over a year since i've been living in singapore all together
over a year since i've started scrapbooking and having fun everyday
and i've been blogging for about 6 months now!!! yip pee!
and a big thanks to everyone who stops by and for all the wonderful comments, you guys are definitely my source of inspiration and determination to keep going....
as a big thank you, i'll be giving away the following to one lucky reader; i think there's over a hundred prima flowers, a handful of dew drops from robin nest and some maya road trinket pins. please leave a comment on this post, sharing what you look forward to at the end of the year. the winner will be announce on next
Friday Oct 9th
!!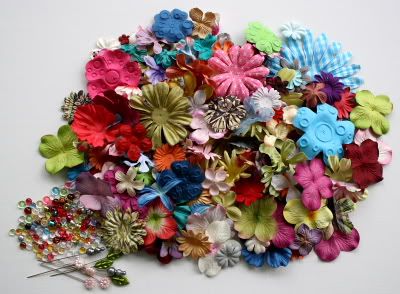 thanks for stopping by & for sharing!!!