I really had to scratch my head on this one for the jillibean soup sketch challenge - how to do a circle LO. The first issue was how am i going to get a circle... first went on a shopping search to find the ultimate circle cutter - without any luck, then went searching around my apartment for something circle and as big as 12" in diameter. Finally decided on my dinner plate! yeap, interesting isn't it... the things that we would do sometimes...
and here's my take on their sketch --> for more details check out the
jillibean soup blog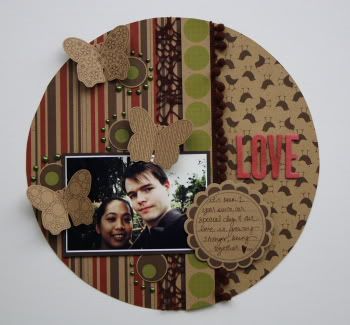 paper: jillibean soup cream of mushroom collection
embellishments: queen & co pearls, maya arts ribbons, american crafts chipboard alphas, tattered angels glimmer mist
Thanks for stopping by!!!