I just realized that I haven't had the chance to share this 2 page layout that I did a while ago... of my sister and DH during our trip to BKK earlier in the year. (and I know I'm using this photo again, but just love it. it's not everyday that I managed to take one that I just love).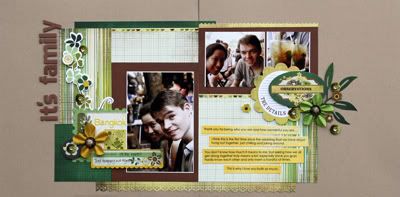 I have to admit that I usually don't do 2 page layouts, but then I do... the layout is a challenge in itself. How to ensure that the design still flows to the second page and also making sure that everything all line up. (The later is usually the problem, I tend to forget about the second page and work on them seperately. Tip - for 2 page layouts, it's best to work on both the pages at the same time.)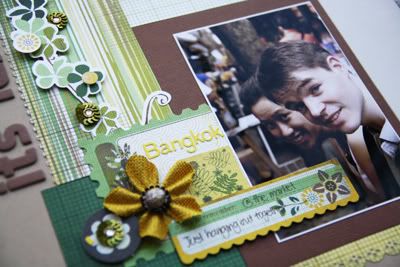 And for my new technique of the week (one of my resolutions this year - is to try a new technique every week) is to first mist the paper that will be used for journaling... and don't you just love the effect that it has... (I also mixed up the sequence of the strips after I had cut them).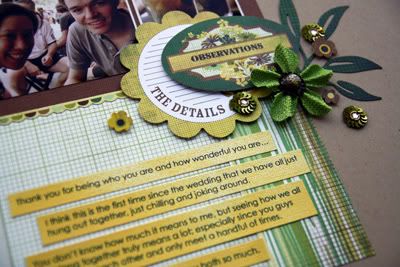 supplies used: cardstock: bazzill basic (kraft) and american crafts (brown); pattern paper: basic grey - origins collection; flowers and flower centers: prima; alphas: american crafts; die cut and stickers: basic grey - origins collection; mist: maya road - sunflowers.
Thanks for stopping by and don't forget to check out my post below for some yummy flowers :)