hi there.... feeling so so gulity for not having posted for awhile now, I usually do try to post during the week also - but lately I have been so tied up with work that I haven't had a chance to do much of anything else, but work! yeap, what can i say - this is the life of a consultant.
anyway... have tons of stuff and fun to share...
first off... here's a layout that i finished in 1 hour! yes, that's a new record for me! would say it's a fun and simple one - using up my old pictures that have been hidden away for atleast 6 months now. Here are some random places that I had visited back in 2007 and using those gorgeous studio calico papers.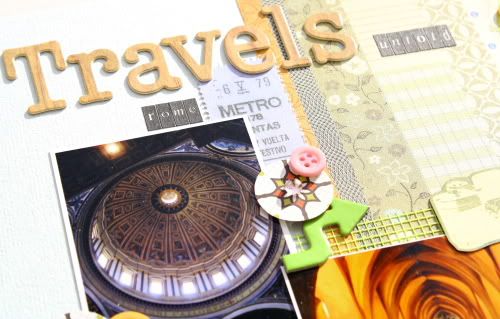 Supplies used include:
paper: studio calico july kit - documentary
embellishments: studio calico fabrips, scenic route chipboard, making memories travel collection buttons, SEI travel tickets, making memories mini alphas, k&company chipboard alphas
--------------------------------------------------
Also here's a peek at an assignment that I have been working on for MWL - wedding theme (ps. don't forget to check out the other MWL DTs - their assignments are absolutely gorgeous)
And of course if you haven't heard already... MWL is having a pasar malam event. Great deals & a superb auction... I could believe last night when someone walked away with the big shot express for only $109 SGD. WOW!! If you're interested, don't forget to stop by MWL @ 7:30pm and 9:30pm for the auction - a must not miss event!
embellishment: prima flowers, magic mesh, sizzix
sizzix die: bigz flower layers #2 (654832)
So don't forget to head on down to MWL this evening! See you there! (if you see me, please stop by to say hi)