i've been scrapping away the last two weeks non stop - hoping to get everything done before the end of the week, as I might have to travel abit for the next 3 weeks (keeping my fingers cross that the trip to UK will go through, would be definitely great as this would be my first time ever going to the UK. although the trip is for work, hoping to squeeze in a bit on the weekend!)
and here's a little something with the super fun
Abode Collection
from American Crafts... I just adore the solid colors of this collection and it was the first thing I grab when I wanted to scrap the pictures from my last weekend in Bangkok.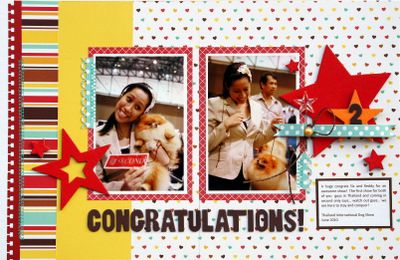 it's a two page layout - using two 8.5"x11" pages and a little something to celebrate the our second place winning (hoping that next time we would get the #1!!! was so so so so close) and also my sister's first show in Bangkok (we'll see how long she keeps this one up - or at least until she finds a job. speaking of which... know anyone looking for an infrastructure economist?)
(a little introduction) just wanted to also introduce our latest addition to the family... Reddy!! (his full name is AM CAN CH Chrisendo Call Waiting aka Reddy) and we're keeping our fingers cross that we would be able to also add TH to his list of championships. and yes, in addition to my love for scrapbooking, I also have a small pomeranian kennel back home in Bangkok.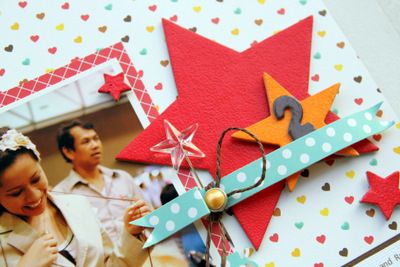 and couldn't stop playing with these super fun chipboard pieces from GCD studios. this time around, got out my american crafts embossing powder for some super glossy finish. (I double embossed the chipboards for the solid finish look).
and before disappearing again... here's a little sneak of one of the layouts for my up and coming class at MWL next month. hope to see some you there :)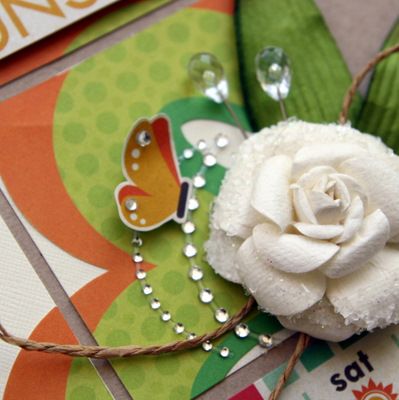 thanks for stopping by everyone!