...was a blast! the wedding was amazing with a stunning view of the la pedrera and abit of the sagrada familia and the weather was just perfect. It wasn't tooo hot and every now and then there was a refreshing breeze flowing through. our short stay in barcelona was just perfect too - for the first time ever we weren't trying to see everything or visit the top 10 must see (partially because this wasn't the first time that we were there) and actually had time to just hang around and do nothing (with a glass of wine and a gorgeous view).
there was however one place that I wanted to visit again - parc guell - and would do it again and again. I just can't get over the amazing architecture and those houses are so adorable and the lovely tiles and how they just sparkle in the sunlight....
and here's alittle something that I created to capture that moment... and yes, it was one really sunny day too! I wanted to do something simple for this layout, but still couldn't resist cutting out those sun designs from the fancy pants papers...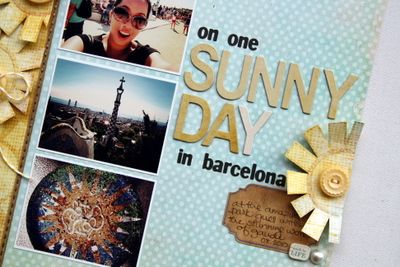 and I also tried to kept the colors constrained on the layout - reds on reds, yellow on yellow. Initially when I did this, I wasn't sure if the objects would show up, but really like the final outcome whereby you can add/layer items but still have an overall simple look.... (or so I think)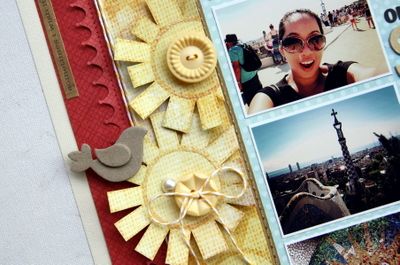 supplies used include:
cardstock: american crafts; pattern paper: fancy pants; chipboard bird: maya road; mist: tattered angels; stickers: crate paper and basic grey; chipboard alphas: the girls paperie; buttons: jenni bowlin; edge punch: martha stewart.
thanks for stopping by and all the wonderful comments (yes, I'm back...lol). Also could I get your help on something.... how would you describe my scrapbooking style? Recently I've been asked this question and honestly, I don't know...
and guess what I saw on 2peas (Sept 22nd): thanks everyone for your support!