I'm back to share that Megan Hoeppner's latest edition of
Creative Spaces Volume 2
from
Creating Keepsake
is now available! This magazine couldn't come at a better time as for the past 2 weeks I've been trying to re-organize my scrapping storage room (it's pretty much where I hide all my scrapbook supplies as to not clutter the living room too much) and most importantly purge!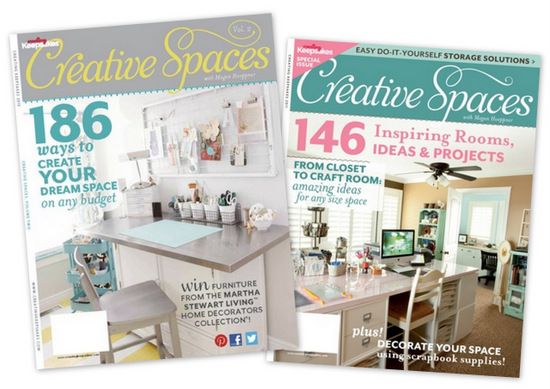 I've had the opportunity to share my scrapping area in the first volume and can't wait to get a hold of the second volume, love seeing everyone's scrapping space. Also there's tons of ideas and fun ways to store all those scrapping supplies and get those must have - I need that turquoise cart in the corner there from Ikea! Plus as I'm re-organizing my scrapping area at the moment, any ideas are welcome. Found a few interesting ones on Pinterest that would definitely help me (and within my budget *wink*)
ReUse! = a great way to label the different shelves but also can easily be changed anytime
ReCycle! = got love this idea and plus got tons of boxes that can be put to good use
ReMind! = yeap, I should have this sitting on my table, not only would it act as a awesome container but also a reminder that only buy what you really really really need. do not hoard! LOL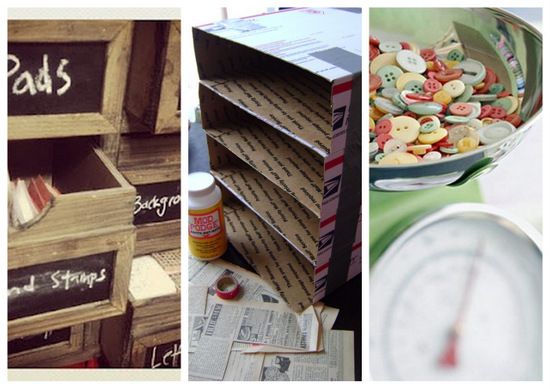 Chalkboard idea, Re-use those boxes, Weigh them in
Need more ideas and interested in taking a peak at what's in the new issue --> check out the details
HERE
. Also don't forget to grab your copy
HERE
and if you haven't gotten the first issue yet, just head on over
HERE
.
Also the wonderful ladies at CK have given me a copy to giveaway to one lucky reader here. Just leave me a comment here on the blog by this
Saturday Jan 12th
sharing any tips or ideas on storing your supplies or ideas on how to self-control when you go scrapbook shopping. LOL
Thanks everyone for stopping by!